Professional Russian translation to and from English and Chinese
Angel is a Russian translation company with offices in Europe and the Asia offering professional translation services in more than 400 language combinations since 1998. Our large database of professional English, Chinese and Russian translators to provide our clients with an accurate translation service, thus ensuring the Russian language in the translation will be perfectly understood by your potential clients./p>
STARTING AT
$0.05/Word
No additional costs or other

Get a highest-quality Russian translation services for your demand promptly. Our trust on our certified ISO 9001 and EN-15038 translation services

With 24x7x365 services and Russian specialists available to you anytime, you spend less time managing document and more time focusing on your business.

Providing you with simple and competitive pricing paired with the highest quality in the marketplace is a key element to ANGEL's mission.
We offer all kinds of professional Russian translation, Certified Russian translation, Russian document translation, Russian website and software localization, Russian proofreading, Russian interpretation, Russian translator staffing and recruiting, Russian multimedia and studio solutions, Russian desktop publishing and every other kind of Russian translation services.
Need medical documents translated from Russian to English? How about a technical conference for 2,500 with Mandarin Chinese into Russian and English? No matter how obscure, we always deliver a linguist that works in the language combination and specific field knowledge you need.
We have Russian translators specialized in almost every major field, including legal, medical, technical, media, telecommunications, business, marketing, financial, etc. This is critical to ensure each Russian translation is tailored to the subject matter and thus, more accurate.

— Allen Gao, Co-founder, Angel Technologies Group
Learn more about our experience in every major field
LEARN MORE
FAQ of Russian translation services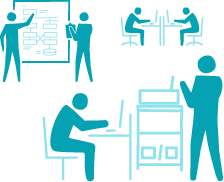 ANGEL Translation Services will make your translation project easy and cost-effective. We'll advise you on how to make your files translation-friendly, how to handle tasks such as currency and metric conversions, and how to save money on translation costs.
About Angel translation
More than 15 years ago, we founded Angel China with a mission to help the world's businesses
navigate the Chinese marketplace.
With decade of hands-on experience, Angel's consultative approach and rigorous quality have made it the Chinese translation leader.